A Path for Couples Book by George Taylor
A Path for Couples: Ten Practices for Love and Joy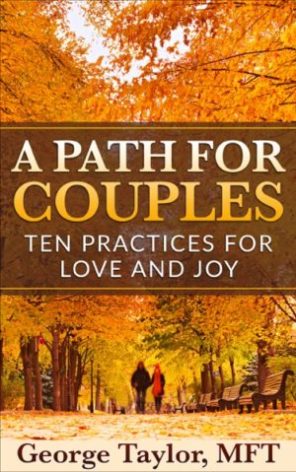 What if you could have close and open communication with your partner?
The A Path for Couples book gives you practical tips and tools for creating more emotional intimacy, joy and connection in your relationship.
Relationships can be bring you the greatest love and the greatest suffering. With self-awareness, and with better communication strategies, you can become more kind, more joyful, and more forgiving.
You can both let go of bad habits that create distance. And then, you will feel more love, more vitality, more acceptance, and more ease. You and your partner can become a couple on a path of healing and growth.
My book shows you how. My couples counseling gives you the skills.
We support local independent Bookstores.  Click here to find the book at Book Passage in Corte Madera or Click here to find the book on Amazon.
Free Download: The Introduction to "A Path for Couples"
After just four sessions using the Practices in the  A Path for Couples book, a couple came into my office talking about the positive changes in their relationship.
"I don't know what you did, but it worked," Jack, a doctor at a prestigious medical center, said. "I feel so much closer to Sally."
Sally smiled. Her body language, which had been reserved and tense in the first two sessions, had softened. "Yes. Something big has shifted in our relationship. Jack isn't as mad, and I'm not walking on eggshells. These old patterns and conflicts are easier to manage." Read More...
"Tools that could make an immediate and big difference"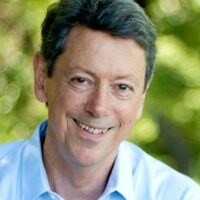 "In a friendly and funny voice, long-time therapist and mindfulness teacher George Taylor gives dozens of practical, powerful suggestions for couples wanting a happy and healthy relationship that lasts long after that first kiss. George gets right to the heart of the matter, with tools that could make an immediate and big difference for you."  
~ Rick Hanson, Ph.D.
Author of Buddha's Brain: The Practical Neuroscience of Happiness, Love, and Wisdom
"Direct pathway to a... vibrant and open-hearted relationship"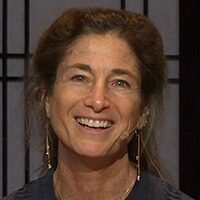 "After reviewing this short powerful workbook I immediately wanted to jump into the recommended practices with my husband! All couples gets caught in reactive patterns that limit their shared experience of love. The insights and exercises that George Taylor offers will give you a direct pathway to a profoundly creative, vibrant and open-hearted relationship."  
~ Tara Brach, Ph.D.  
Author of Radical Acceptance  and True Refuge
George Taylor's clear step-by-step guidebook is both wise and full of heart."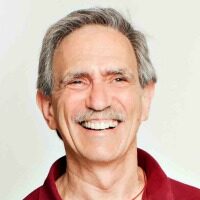 "It's hard enough to become a conscious person within yourself. To be conscious and skilled in intimate relationships is, for many, the last frontier. A Path for Couples provides a marvelous roadmap for navigating when the terrain gets bumpy. George Taylor's clear step-by-step guidebook to a more fulfilling relationship is both wise and full of heart."
~ James Baraz
Author, Awakening Joy
Find out how I can help you rekindle your relationship...
A strong, committed relationship is the cornerstone of your life. If you're experiencing conflict, power struggles, distance, a lack of sex and/or emotional intimacy I can help get you back on track.  I offer affordable and effective solutions that have helped hundreds of couples for more than 20 years.